MaxiCheck MX808 Diagnostic Tool
It is a fault detection tool that can easily be used in auto appraisers.
The MX808, which supports close to 80 European Asian and American vehicle models, can read and delete the vehicle's fault codes. It can display live data both graphically and analogually.
It can successfully perform service operations such as steering angle sensor reset, DPF regeneration.
One of the tool with a high success chart among Universal fault detection tool, the MX808 is a tool that has managed to and its place in auto appraisers with its low cost and superior success.
The great thing about the MX808 fault detection tool is that all updates are free for life.
The operations you can do on vehicles with the Autel Maxicheck MX808 product are as follows:

Reading and erasing the fault code

Fault detail inspection

View diagnosis history

Viewing live data

Engine Ecu km detection

Electronic parking brake put into service mode

Turn off the service and oil maintenance lights

Dpf regeneration

Steering angle sensor reset

Injector coding

Automatic transmission coding

Supporting immo functions

Battery adaptation and reset

It is suitable for passenger and light commercial vehicles.
With the Mx808 diagnostic tool, you can perform auto expertise of vehicles and view original mileage information.
In our product, there is a screen for querying Km information with a single button.
Thanks to this function, it lists the original Km information of the vehicle over all ECUs such as Engine, Abs, Transmission, Tpms Tire Pressure Sensor, Immo etc.
This function is currently available for the following vehicle brands.
"Ford, Abarth, Alfa, Fiat, Lancia, Opel, Vauxhall, Volvo, Man LD, Audi, Bentley, Lamborghini, Seat, Skoda, Volkswagen, Volkswagen CV, Ford EU, Jaguar, Land Rover, Tata, Lexus, Scion, Toyota , Mazda, Proton, Infiniti, Nissan, Nissan GTR, Hyundai, Kia, Brilliance, BAICWeiwang, Bjev, Change Auto, Emgrand, Foton, GreatWall… "
Other vehicle brands continue to be added with every new update.

MaxiCheck MX808 Diagnostic Tool
Tablet Hardware Features:
Android 4.4 operating system

Cortex-A9 processor

7 inch touch screen

1024 x 600 resolution

User friendly interface

32 GB memory

3200 mAh lithium polymer battery

Shockproof rubber protection

Ambient light sensor for automatic brightness change
MaxiCheck MX808 Diagnostic Tool
Package Included:
Maxicheck MX808 tablet

User guide

Power adapter

Quick reference guide

Mini Usb cable
Note: Turkish language option is only valid for products purchased by our company.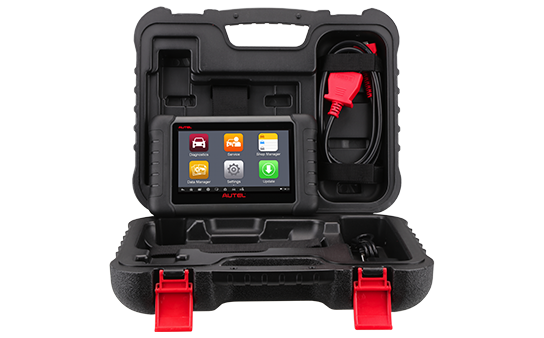 Customers who bought this item also bought