Mercedes Euro6 vehicles produced today have a new generation MP4 key / immobilizer system. In case of failure of these systems, you must have AutoveiV6 device and License SFTP KEYS license in order to reprogram or re-key.
Key system information in Mercedes Euro6 vehicles is available in ECU (MCM), TCM (Transmission Control Module) and EIS (Immobilizer). Since all of these modules are related to each other, a failure in one system can trigger the operating systems in the other system and cause malfunctions in these modules. Autovei programming device can edit and program on these modules.
So, in which cases it is necessary to code the key or fix the immobilizer system in Mercedes vehicles?
- If the EIS system in Mercedes Euro6 vehicles is damaged
- Mercedes Euro6 does not recognize the vehicle Key system
- If any changes are made to MCM and TCM ECU
Follow the steps below to program Key in Mercedes Euro6 vehicles. If you are unsuccessful in these steps, you can contact us. Our Technical Team, who are experts in this field, will help you.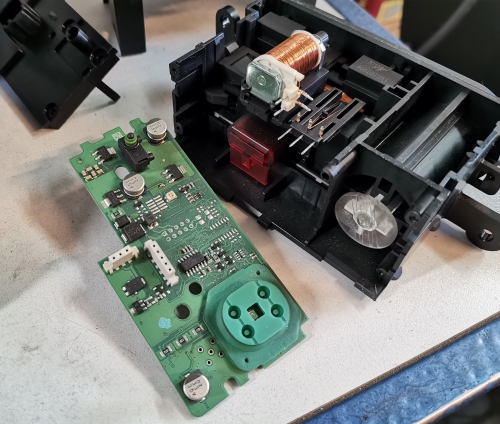 Mercedes Euro6 EIS Programming Procedure:

1. We remove the EIS;
2. We disassemble the EIS module and make the connections according to the connection scheme Autovei gave us.
3. We are making the connections of our Autovei device;
4. After making the selections, we read and save the entire Flash memory;
5. We solder and attach the new EIS module and reconnect the Autovei device;
6. We write the previously saved Flash file to the new EIS module;
7. We install the newly programmed EIS module into the vehicle;
8. Done.
Note: The repair procedure for EIS is the same. Simply rewrite the original FLASH file.
In order to do these operations, you must have the Autovei device and the following license and cables.
- Truck Explorer VEI V6 device
- DirectConnect2U tool
- DC2-EIS cable
- DC2-EIS-ISP3 cable
- EIS ISP socket 10 pin
- License EIS ISP
If you want to get information about key coding or on different topics;
You can reach us by calling 0850 755 02 30 or at www.nitrobilisim.com.tr.