Autel MaxiSys Ultra tablet has accomplished very important and successful works in vehicle diagnostics worldwide.
With the developing automotive industry, Autel company has presented you the Ultra tablet that it has just released.
It is a professional tool produced after MS909 and MS919 models in vehicle troubleshooting and programming.
It provides excellent performance at an affordable price with its high-level digital diagnosis system.It is a global product targeting all Europe and the USA.
Autel ULTRA tablet supports vehicle models up to 2020. It offers easy use with its fast update.
It supports ECU coding function for vehicles such as BMW, MERCEDES BENZ, AUDI, Ford, FİAT, CHRYSLER, Mazda, Hyundai, Nissan, Toyota, etc.
It also supports the online programming function in BMW and MERCEDES BENZ vehicles.
Autel ULTRA Features
Unlike Ms909, Component Test shows code related problems and directs users to Oscilloscope with a single click.As a Repair Aid, it provides a systematic analysis of faults and guides users to fix faults step by step.
This system is supported for BMW, GM, JAGUAR, LANDROVER FORD, CHRYSLER, PORSCHE vehicles. Along with the new updates, repair assistance service will be provided for other brands.

With this tool, you can determine the mileage of vehicles
DTC analysis: Provides the definition, cause and possible solutions of diagnostic transactions.
The vehicle supports GM, FORD, FIAT, CHRYSLER, TOYOTA-LEXUS, NİSSAN, HONDA, VOLKSWAGEN, AUDI, BMW, MERCEDES BENZ, JAGUAR AND LANDROVER vehicles.
It allows you to view repair tips and detailed repair procedures presented in texts or videos.
TSB (Technical Services Bulletin): Offers technical service bulletins available from vehicle manufacturers, including FORD, GM, FIAT, CHRYSLER, TOYOTA, NISSAN, HONDA, BMW, BENZ, AUDI, VOLKSWAGEN, HYUNDAI, KIA.
Automatic detection: It automatically reads vehicle systems with VIN technology after OBD connector is connected.
System topology

Technical Services Bulletin

VCI connection

Bus Protocol DoIP

Bus Protocol CAN FD

Intelligent troubleshooting

Automatic vehicle selection

Diagnostic Direction (New menu navigation bar)

Viewing fault codes (Viewing directly after scanning)

Oscilloscope

Multimeter

Waveform generator

Can bus control

D-PDU / J2534 / RP1210 diagnostic protocols

Performing diagnostic operations on old model vehicles given in the set with cable sockets and vehicles without OBDII socket,

Wireless connection with vehicles,

Automatic system and software updates over the internet,

Providing technical support via remote connection,

Automatically recognizing vehicles with AutoV's feature;

You can get technical support directly from Autel Company with Interactive Data Logging application,

You can easily save vehicle records, data files, customer information,

Faster charging opportunity with unique charging stand,

Providing maximum durability with rubber outer coating
Differences Between Autel MS919 and Autel Ultra
The difference of Ultra Model from Autel MS919 is its tablet size, memory and battery life.




MS919 has 9.7 inch size. Ultra is 12.9 inches in size.

MS919 has 128 GB SSD, while Ultra model has 256 Gb SSD.

Ms919 has a 15,000mAh battery. Ultra has an 18.000mAh battery.
Vcı / Vcmı New Features
D-PDU / J2534 / RP1210

CAN-FD / DoIP Bus Protocol
Four commonly used measuring tools:
Oscilloscope




multimeter

Waveform generator

CAN Bus control
Tablet Features
Samsung Exynos 8895V Octa-core CUP: 2.3GHz + 1.7GHz

4GB Ram / 256GB Storage

Front Camera: 5 megapixels, Rear Camera 16 megapixels

12.9-inch retina display

18000mAh Battery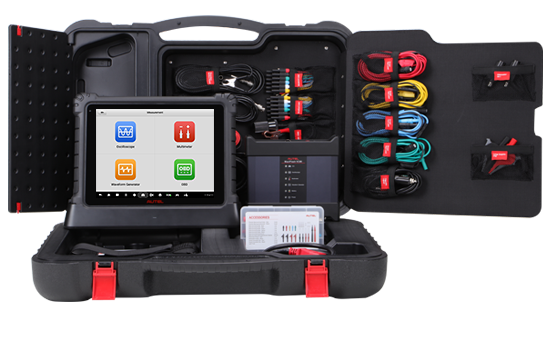 Online Programlama, Doip Interface
Bmw, Mercedes araçlarda online programlama özelliği gayet başarılı. Doip interface sayesinde j2534 destekleyen servis programlarında başarılı şekilde çalışmakta.