CodiProg (DiagProg 1) is the predecessor of the DiagProg device as an independent programmer. The device, which works only when connected to a computer, is used for programming integrated circuits that control the instrument panel equipment of various vehicles. The CodiSys device was only one of the few tools that allowed to repair programmable indicators and were effective in microchips circuit programming (without the need for de-soldering).
Given the persistent progress in the market, this leads to frequent changes of software (eg operating system) and PC operating parameters. ElproSys has released its own tablet powered by OBD to the market with its superior diagnostic software. With the new device called DiagProg II, problems such as compatibility with computers and different operating clock speeds are eliminated. There is a feature to update the DP2 software version - with this device, the current software version can always be downloaded from the server. The new high-end device has been deliberately designed to meet the needs of customers who are not expert PC users, with easy operation, simple operation allows comfortable operation.
In 2000, Elprosys started the production of the DiagProg diagnostic device, which can be used for odometer programming as well as other electronic car modules. As a result of the continuous improvement of the equipment based on the examination of customer needs and adaptation to technological developments for 10 years, the Diagprog3 device is the most emerged as a popular diagnostic device.
With a huge technological leap forward, ELPROSYS has put intensive work to further develop the diagprog3 device, and as a result of this work, they developed the Diagprog4 diagnostic device, which was developed and released very recently. This device is the most advanced and powerful diagnostic device available on the market. Faster programming, easier access to automatically save the log file or delete diagnostic errors are just a few of the many advantages that the DiagProg4 diagnostic tool can use for users.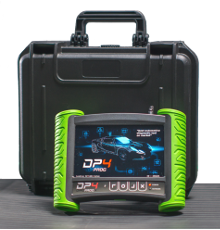 DiagProg4 (DP4) professional diagnostic and ecu programming device is the fourth generation device from the DiagProg series, which is very easy to use and offers maximum flexibility and comfort.
DiagProg4 diagnostic tester can read and clear DTC errors, reset engine oil checks and clear accidents and change language. DiagProg4 diagnostic tool supports a wide range of tools (reading and updating internal meter module), instrument panel repair and calibration. DiagProg4 is also used to program electronic modules for module replacement or post-crash vehicles.
The best feature of Diagprog4 is that it can save you a lot of time and money, because a lot of functions can be accessed over the OBDII connection and it provides easy, fast and safe operation. DiagProg4 is the most advanced and powerful Automotive diagnostic device currently available in the market with its diagnostic and ecu programming device.
- Reading and deleting fault codes (Dtcs) in the obd system,
- Engine oil inspection reset,
- Mileage adjustment and recalibration (reading and updating internal counter module, Km / mile conversion calibration and programming),
- Changing language for all modules,
- Motohours programming,
- Reading and deleting advanced service history,
- Read and write diagnostic link via EEPROM memory (all parameters),
- Reading and programming FLASH memory with diagnostic connection (adjustment, calibration),
- Engine blocking system programming, key and remote control,
- Accident record deletion
- Programming electronic modules after repair or replacement,
- Recalibration and repair of the instrument panel,
- Easy, fast and secure programming or a wide range of tools.
DiagProg4 device is used for the following operations;
- Fault detection
- Repair
- Adaptation of after sales ECU
- Configuration of parameters (eg new menu language, new module installation).
Gauge calibration
- The systems it supports;
- Engine control unit (ECU),
- Anti-lock brake system pump (ABS),
- Immobilizer (anti-theft control, alarm system),
- Bady control unit (BSI, BCM) computer (windows / mirrors are responsible for locking the center),
- SRS airbag (responsible for airbag control),
- Central diagnostic gate (Gateway, zgw), diagnostics and new modules configuration)
- Tire pressure Monitor (TPM - module responsible for tire pressure control).
Diagprog device has been put into service of our valued customers with the assurance of Nitro Bilişim.