WHAT IS THE ADAS SYSTEM?
COMPREHENSIVE AND PRECISE CALIBRATION
The ADAS system is a request designed to warn the driver in emergency and / or dangerous situations and to prevent accidents. Vehicles warn the driver with passive alerts or active assists via an ADAS. Sensor input has multiple uses, the process is shared, and subsystems deliver the desired effect. After repairing a vehicle, all sensor systems must be recalibrated to ensure that the ADAS network works this way like original. Otherwise, this system will malfunction and may cause accidents as a result.
The systems in the vehicles that need to be calibrated are as follows;
| | | |
| --- | --- | --- |
| | Passive Properties | Active properties |
| ACC | Adaptive Cruise Control | Automatic Emergency Brake |
| LDW | Lane change alert | Ribbon drying support |
| NVS | Night vision system | Adaptive front lighting |
| RCW | Rear accident warning | Rear accident warning |
| AVM | Viewing around | Pedestrian protection system |
| BSD | Blind spot inspection | Blind spot intervention |
| HUD | head-up display | Driver drowsiness screen |
MULTIPLE CALIBRATION FUNCTIONS
ADAS also offers you a great service to prevent accidents, with its advanced driver assistance system, it helps drivers to recognize road hazards, especially on dangerous roads, the camera alerts you with dynamic lighting, electromagnetic sensors and radars, and takes actions to prevent the drivers from colliding in case of any danger of collision. is found.
Various advanced driver assistance systems are available to assist drivers with road hazards. Advanced driver assistance systems use image processing cameras, radar, lidar, dynamic lighting, electromagnetic sensors and ultrasound to monitor the vehicle environment and detect potentially dangerous driving situations. When a vehicle detects a potentially dangerous situation, the vehicle alerts the driver or takes corrective action to avoid a collision.

VIEWING TARGET PATERN AROUND MALL
MaxiSys ADAS calibration PACK provides more coverage and precise calibration for a wider range of vehicles and systems. AVM-Surrounding imaging system or 360 degree camera target patterns are sold and organized separately to the repair requirements of the workshops, specific to each manufacturer or system.
LDW CHANGE LANE WARNING TARGET PATERNI

The glass replacement standard package includes a set of holders to calibrate all LDW calibration pattern targets and the forward camera. Lane departure warning system calibration is only necessary when changing windshields to calibrate forward-facing cameras and is vital.
LDW Lane departure warning destination examples

ADAS PROCEDURE WORK AREA REQUIREMENTS
Calibration procedures should be done on a flat surface. Some vehicles require targets located 20 feet from the vehicle. Some procedures include an optical alignment with a backlight that is too bright to avoid uneven surfaces or outer shadows causing calibration error.
Precise calibration is required after common repair procedures such as bumper or windshield replacement otherwise these vital safety systems will fail or operate incorrectly.
WORK AREA ADVANTAGE
The target system requires a similar field as an unobstructed allignment machine. Proper ADAS calibration, the vehicle must be placed on a flat surface to complete the process. With the help of the alignment lift, the vehicle can be raised to a certain level.

The Autel calibration frame offers a longer distance than the average extended adjustable height, allowing for use with vehicle leveling elevators. In this way, you can make your transactions in safety.

FIXED AND DYNAMIC CALIBRATION
Some systems require specific targets for calibration, and some systems, such as forward-facing cameras, do not. Systems that do not require a target system require a Scan Tool to initiate a learning process, and then a test drive with straight and clear lane markings to complete adaptation.
Dynamic sensor calibration is often the preferred method for camera sensors. Radar sensors often require static adjustment followed by a path procedure. Dynamic calibration involves starting the process with a scan tool until the scan tool indicates calibration is complete, and then driving the vehicle on a relatively straight road with clear lane markings for 5-30 minutes at specified speeds.

AUTEL MaxiSYS ADAS CALIBRATION DEVICE
Produced by AUTEL company, MaxiSYS ADAS is an indispensable calibration device for professional services. Repairs made after an accident in new generation vehicles disrupt the sensitivity and adjustment of the sensors. ADAS device calibrates the vehicles perfectly thanks to its improved system with camera. It is an ideal device for post-accident repair, glass replacement and calibration of camera, radar, lidar and ultrasound systems.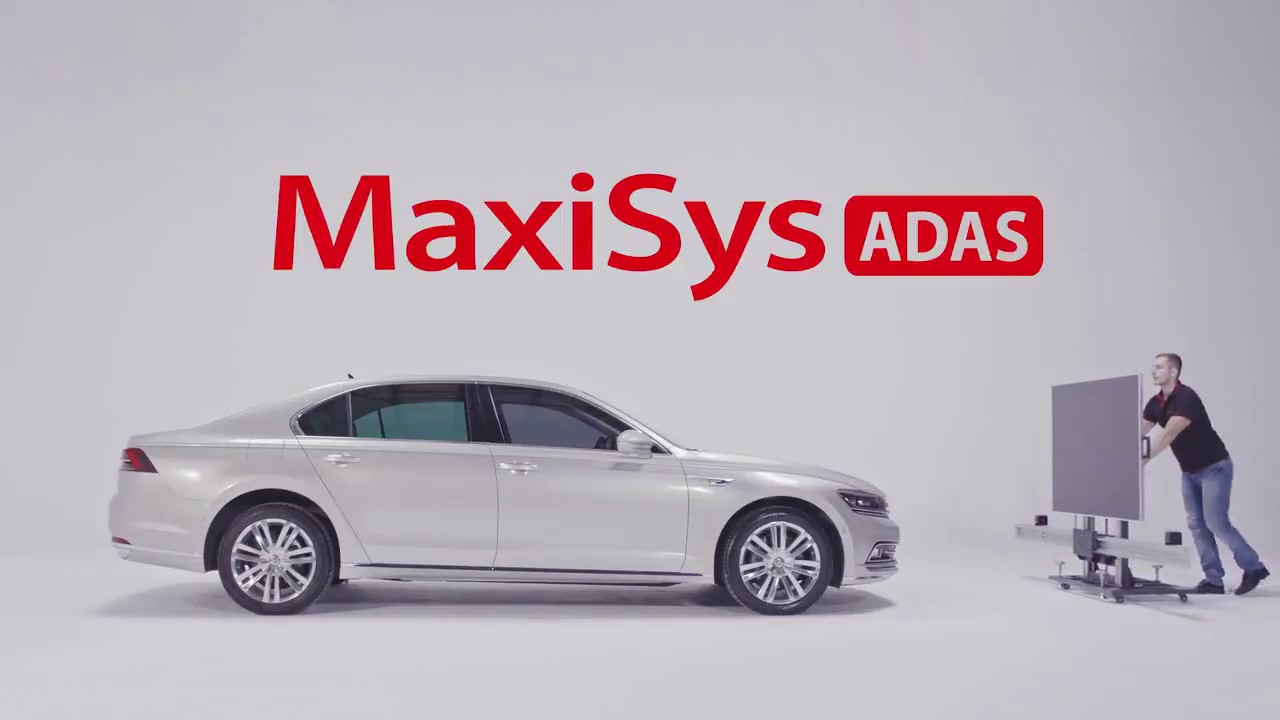 FLEXIBLE, PRECISE, COMPREHENSIVE
* Replaceable Modular Calibration Frame Carried By Wheels And Pulleys With Easily Adjustable Panels

* Wireless diagnostic device that provides easy follow-up of the calibration process graphically and is capable of bidirectional fault detection.
MODULAR CALIBRATION FRAME
You can easily and precisely adjust the calibration frame panels during the leveling process to ensure the vehicle is centered accurately when facing targets for calibration. Depending on vehicle manufacturer systems that require calibration procedures, you can mount interchangeable panels and targets in the modular calibration frame.
REPLACEABLE PANELS
You can make things even easier by purchasing accessories such as radar and night vision calibration boxes or target patterns and plates for calibration.
You can easily create combinations of specific calibration targets for vehicle coverage to meet workshop requirements. Panels and patterns are easily removed from the frame and shrink or fold for convenient storage.
CORRECT CALIBRATION PROCEDURES
It is updated weekly by Autel engineers, thus providing an advanced and trouble-free use to our customers.
MaxiSYS software, instead of directing to the user manual for correct instructions, provides precise measurement and installation and calibration guidance and has a wider vehicle coverage than more market devices. AUTEL MaxiSYS ADAS is a modular calibration kit, includes 7 different calibration functions (ACC, front-camera, rear-camera, panoramic 360 ° camera, blind spot radar, Night Vision, HUD)
STRONG DIAGNOSTIC
Easy-to-use Android navigation guides technicians to quickly diagnose system errors and perform step-by-step calibration.

Autel ADAS tablet;

It is instructive and easy to use thanks to its step-by-step instructions. In this way, you can follow the process step by step. Thanks to its wide range of cars, it can be used in almost all vehicles on the market.

Device features;
Faster 1.3 GHz + 1.7 GHz hexa-core processor
J2534 Maxiflash Elite for programming at OE level
Bluetooth VCI for wireless vehicle communication
Automatic VIN / automatic scanning of all available modules in all systems
Bi-directional diagnostics for coding and activations
Advanced Service Features / Whole System troubleshooting
Complete kit comes with carrying case
It offers you easy installation with bi-directional fault detection support and all fine detailed calibration settings ...
ADAS SETUP

FAST AND EASY INSTALLATION
Thanks to MaxiSYS software, it is ensured that the vehicle is in the correct position before the calibration starts and it is easy to use with graphic instructions in the direction of correct positioning of the frame and panels.