MERCEDES EURO 6 ADBLUE EMULATOR
Adblue is exhaust fluid of diesel cars. It is fluid that used to prevent the pollution created by the engine from mixing to the air.
When the time that adblue fluid is over, there will be a warning lamp in the car.
With this, the traction of car decrease andthe performance of car will decrease as well. Also this situation causes the vehicle to consume more fuel.
The drivers will have huge problem when Mercedes Euro 6 vehicles fall into this situation while they are on the road.
Mercedes Euro 6 emulators that produced by Nitro Mechatronics fixes this problem.
Note: Disabling the Adblue system does not cause any harm to the vehicles.
The systems that Mercedes Euro 6 emulators will deactive:
Adblue system

Adblue Nox Sensor

DPF System

DPF Temperature Sensors

DPF Regeneration
Advantages of Mercedes Euro 6 emulators:
Prevents Adblue Failure in the vehicle.

There will be no need for Adblue fuel anymore.

Adblue Error does not appear on the screen again.

Prevents power loss in the motor.

Continues stable operation of the system in case of bad diesel failures.

Prevents malfunctions such as DPF temperature or clogging.

Prevents malfunctions related to pressure difference sensors.
How to montage Mercedes Euro 6 Can Bus Emulator?
The emulator will be completed when it is done as indicated in the wiring diagram to the nox sensor cable in the vehicle.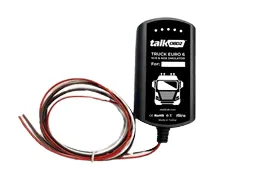 Customers who bought this item also bought